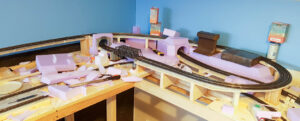 Ok, so it has been ages since the last update. But that doesn't mean that there haven't been progress on the layout. To summarize it, it have been one step back and two forward. During November, I got all tracks in place, all turnouts connected and everything up-and-running. Problem was that I was very happy with half the layout, and quite unhappy with the other. It was no fun to run trains on that part. No sceneries I looked forward to build and just an unsatisfying feeling when I looked at it. So after a couple of weeks of thinking, I decided to pull up and remove half the layout. And I really mean pull up. Everything was removed. Tracks, electronics, cables, decoders and so on. Once I had a clean table, I lowered it all with about 7 cm to be able to get a more height difference between the different sections.
To make a long story short, I have redone half of my layout. But I'm further now than I was before I started with the destruction of it all. And I'm so happy that I took the decision to destroy the parts that I was not happy with. No regrets.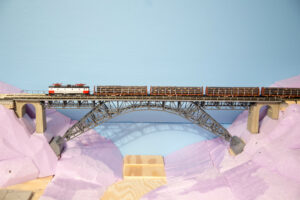 The new layout have changed from two stations to three stations. The hidden yard and the station on top of it is still there. The large station, including the harbor and the container yard have been replaced with a mountain and two smaller stations. I have also installed a couple of bridges after my son's wishes.