The new bridge is operational
After a complete rebuild of half the layout, the new sections are now in place. This is one of the three bridges that are available on the layout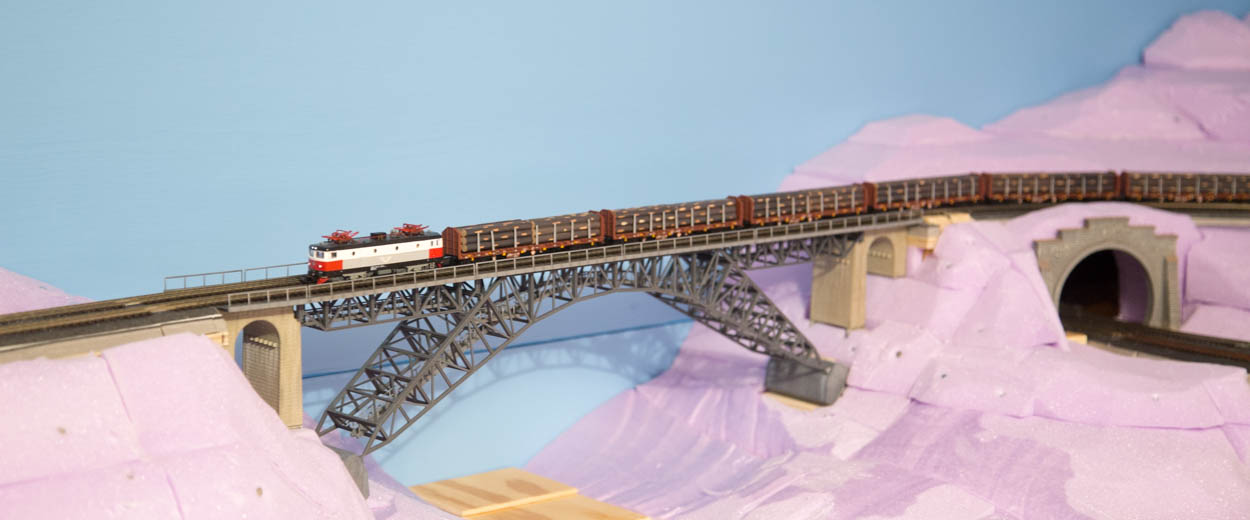 Between stations
This picture will give an indication on how far I've gotten with the landscape between the stations. Right now, only the tracks are in place.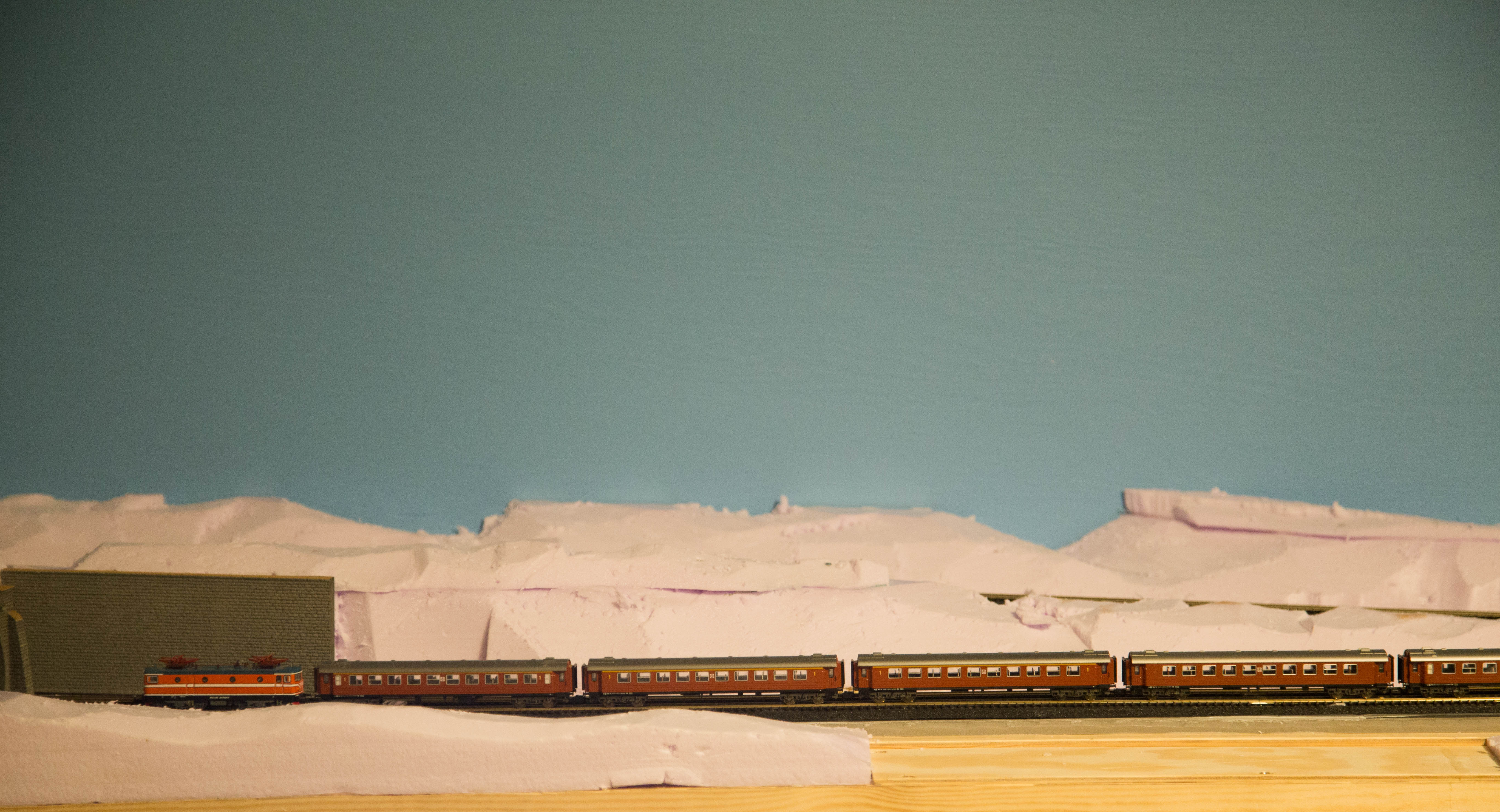 Autumn outdoor fun
We have the outdoor railroad up-and-running now. It's a very warm and lovely autumn so we have been running almost every day for the past weeks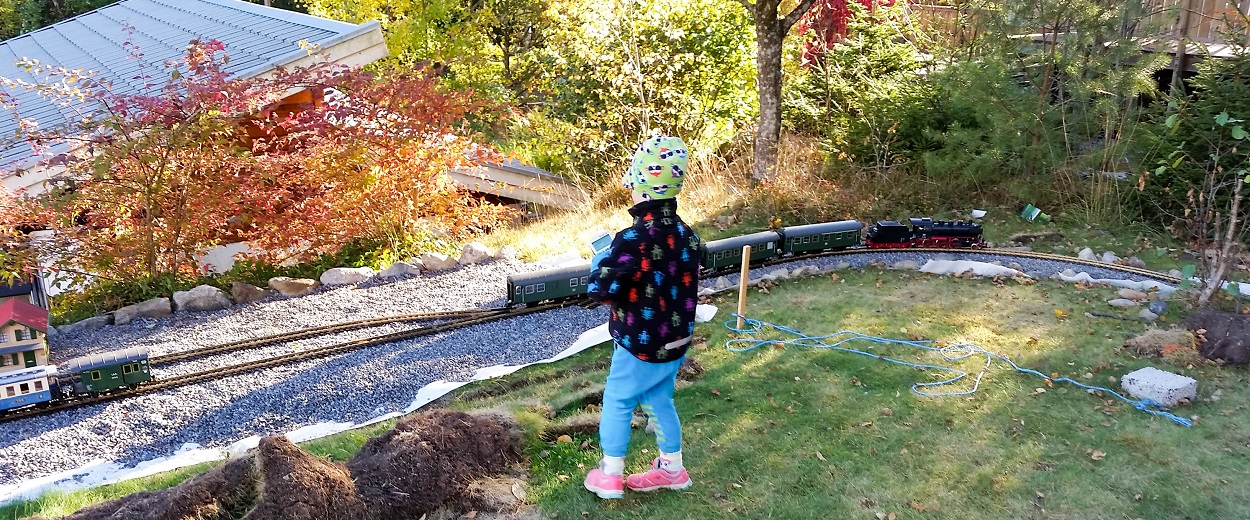 Lights project
Fairly quickly, I realized that the lighting in a model railroad is more than just a switch that turns on and off all the lights. Therefore, I have developed my own lighting projects, with automatic dusk and dawn
RS Bus feedback
The first version of my feedback solution for the Lenz RS bus is now complete. Eight cards are installed on my railroad and works perfectly
Some data over the railroad
When the track is fully developed, it will be about 120 meters long, 69 switches, 87 blocks and unnecessary number of signals and circuit boards under the tables. In total there are 81 servos that control the turnouts via my own servo controller board.
Latest building logs
Warning: Parameter 2 to M_DataMapper::set_custom_wp_query_where() expected to be a reference, value given in /customers/6/7/d/bsmj.se/httpd.www/wp-includes/class-wp-hook.php on line 298 Warning: Parameter 2 to M_DataMapper::set_custom_wp_query_groupby() expected to be a reference, value given in /customers/6/7/d/bsmj.se/httpd.www/wp-includes/class-wp-hook.php on line 298 Warning: Parameter 2 to M_DataMapper::set_custom_wp_query_fields() expected to be a reference, value given in /customers/6/7/d/bsmj.se/httpd.www/wp-includes/class-wp-hook.php on line 298 Warning: Parameter 2 to M_DataMapper::set_custom_wp_query() expected to be a reference, value given in /customers/6/7/d/bsmj.se/httpd.www/wp-includes/class-wp-hook.php on line 298 Warning: Parameter 2 to qtranxf_postsFilter() expected to be a reference, value given in /customers/6/7/d/bsmj.se/httpd.www/wp-includes/class-wp-hook.php on line 298

Ok, so it has been ages since the last update. But that doesn't mean that there haven't been progress on the layout. To summarize it, it have been one step back and two forward. During November, I got all tracks in place, all turnouts connected …

Continue Reading
Warning: Parameter 2 to M_DataMapper::set_custom_wp_query_where() expected to be a reference, value given in /customers/6/7/d/bsmj.se/httpd.www/wp-includes/class-wp-hook.php on line 298 Warning: Parameter 2 to M_DataMapper::set_custom_wp_query_groupby() expected to be a reference, value given in /customers/6/7/d/bsmj.se/httpd.www/wp-includes/class-wp-hook.php on line 298 Warning: Parameter 2 to M_DataMapper::set_custom_wp_query_fields() expected to be a reference, value given in /customers/6/7/d/bsmj.se/httpd.www/wp-includes/class-wp-hook.php on line 298 Warning: Parameter 2 to M_DataMapper::set_custom_wp_query() expected to be a reference, value given in /customers/6/7/d/bsmj.se/httpd.www/wp-includes/class-wp-hook.php on line 298 Warning: Parameter 2 to qtranxf_postsFilter() expected to be a reference, value given in /customers/6/7/d/bsmj.se/httpd.www/wp-includes/class-wp-hook.php on line 298 Warning: Parameter 2 to M_DataMapper::set_custom_wp_query_where() expected to be a reference, value given in /customers/6/7/d/bsmj.se/httpd.www/wp-includes/class-wp-hook.php on line 298 Warning: Parameter 2 to M_DataMapper::set_custom_wp_query_groupby() expected to be a reference, value given in /customers/6/7/d/bsmj.se/httpd.www/wp-includes/class-wp-hook.php on line 298 Warning: Parameter 2 to M_DataMapper::set_custom_wp_query_fields() expected to be a reference, value given in /customers/6/7/d/bsmj.se/httpd.www/wp-includes/class-wp-hook.php on line 298 Warning: Parameter 2 to M_DataMapper::set_custom_wp_query() expected to be a reference, value given in /customers/6/7/d/bsmj.se/httpd.www/wp-includes/class-wp-hook.php on line 298 Warning: Parameter 2 to qtranxf_postsFilter() expected to be a reference, value given in /customers/6/7/d/bsmj.se/httpd.www/wp-includes/class-wp-hook.php on line 298