RS Feedback module
My feedback modules have a couple of interesting features that I cant find in the other ones that is available on the market. One thing is that the module is queuing all changes locally inside the memory of the module. Because of that queue, even if the power is off on the track, and the central unit is not collection updates from the feedback modules, the update wont be lost when power is back on to the tracks. So as soon as the power is back on the tracks, and the central unit starts polling the feedback modules for changes, everything in the queue will be sent. Another feature is that regardless of changes of any of the input ports on the feedback module, the module sends an updated respons every 1 second to the central unit. So if there was example an electrical problem, and the priority bit was not correct, the receiver still gets the data. This is pretty important if you use feedback modules for all your turnouts and report the position on the based upon the feedback signal
For a technical description of the RS-Bus, see this page
Addresses
The most common way to set the address of the feedback module is to connect the track and listen to commands on it. This function does not exist on my modules. Instead, the address is fixed in every microprocessor. That means that you change address by programming the microprocessor with a different hex file. Not as flexible, I know. But it saves money and to be honest, how many times do you change the address of your feedback modules once it's in place?
Connections
The connections is very simple. Connect the RS bus to the RS-input ports, +5 volt to power connections and your are up and running. To put an input port low or high, just connect the input port to ground, and you get a feedback signal. To use it together with a block detector, and for a graphical example on how to connect the board, please check my block detector page.
Schematics
The RS-bus side of the schematic is not my own design. It comes from the Der-Moba's webpage.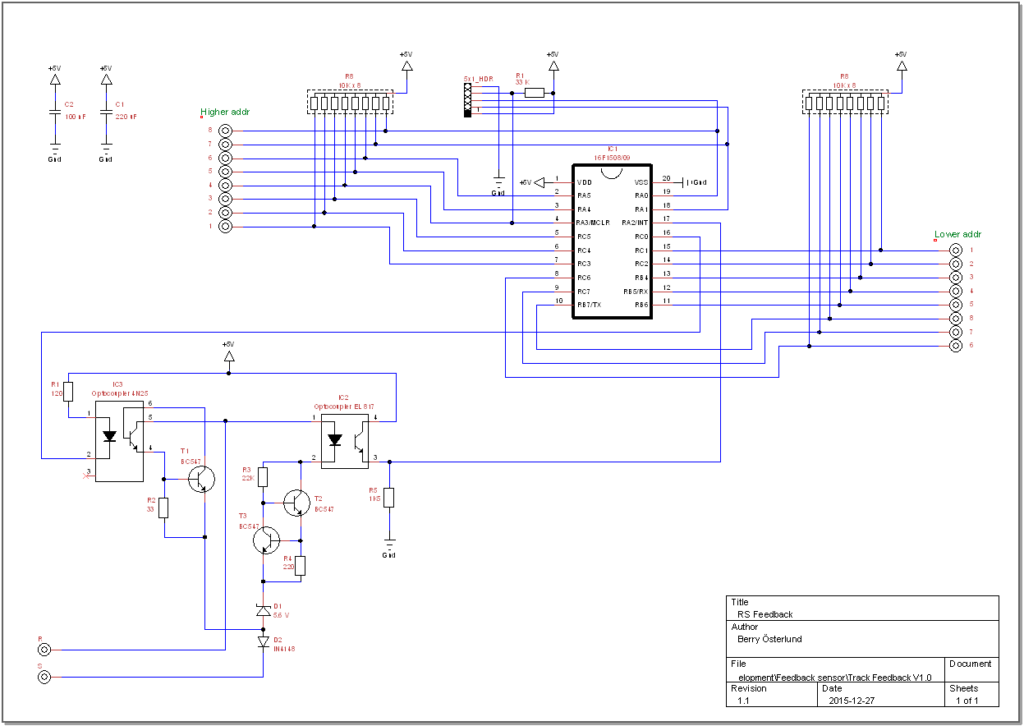 Component list
R1 – 120 ohm
R2 – 33 ohm
R3 – 33 Kohm
R4 – 220 ohm
R5 – 1.5 Kohm
R6 – 8×10 Kohm SIL net
R7 – 8×10 Kohm SIL net
C1 – 220 uF 10v
C2 – 100 nF
D1 – Zenerdiod 5.6 volt
D2 – 1N4148
T1 – BC547
T2 – BC547
T3 – BC547
IC1 – PIC 16F1508
IC2 – Optcoupler 4N25
IC3 – Optcoupler EL817
Prg – 5×1 header connection
PCB connections if needed
PCB design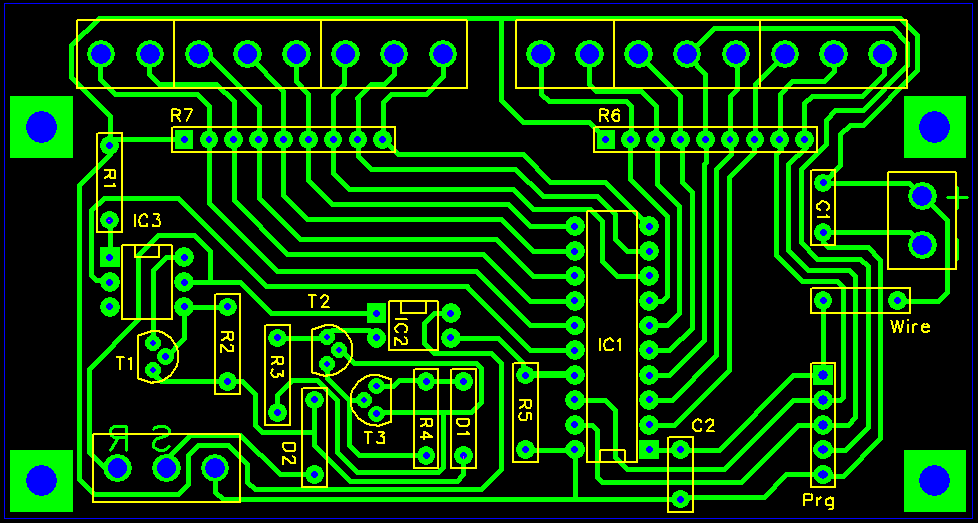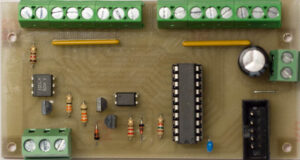 Downloads
PCB Design
RS Feedback HEX V1.1.2